Ford v Ferrari is based on the true story of how Ford built the the GT40 to compete against Ferrari at the 1966 Le Mans. History can tell you that much of the movie is in fact accurate. Carroll Shelby (Matt Damon) did build the racer for Ford. Ken Miles (Christian Bale) did drive it. You can verify the outcome of the race for yourself.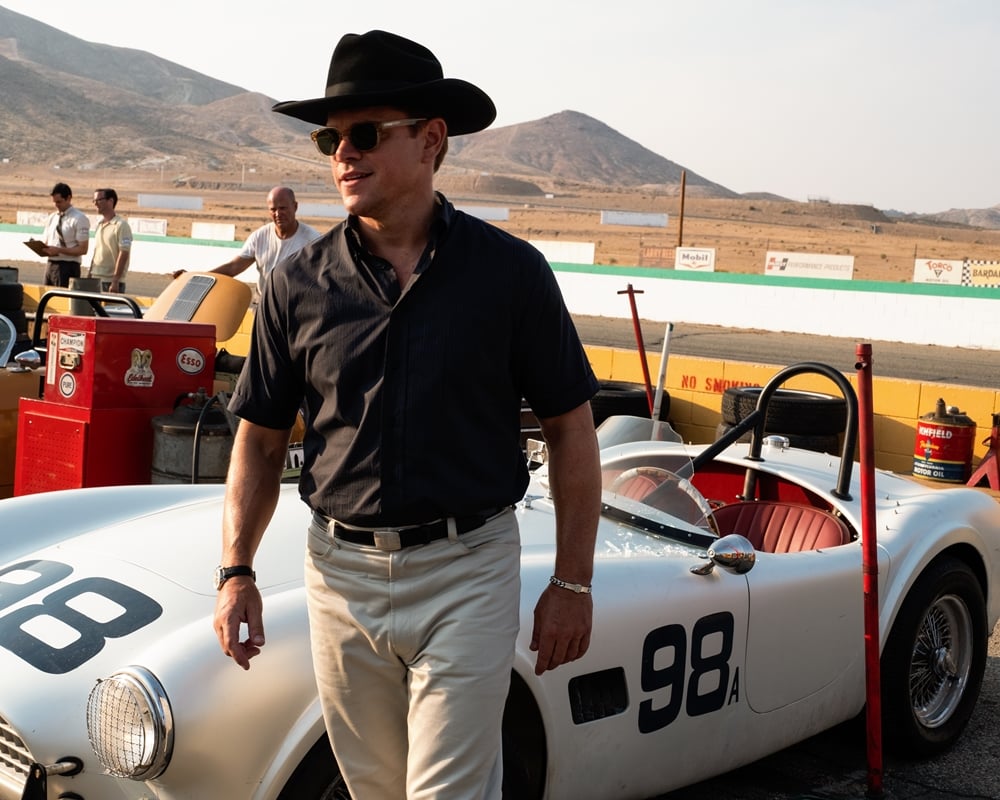 Of course, any movie is a dramatization and Ford v Ferrari is no exception. The film had to leave some details out, and take some artistic license for dramatic effect. Showbiz Cheat Sheet did some research to find out what exactly the movie Ford v Ferrari got wrong. Spoilers for Ford v Ferrari, the 1966 Le Mans and the lives of Carroll Shelby and Ken Miles follow.
First, all the things 'Ford v Ferrari' got right
Give Ford v Ferrari credit where its due. The movie got a lot right. From the collapse of the Ford purchase of Ferrari to the development of the GT40 to the finish line of the Le Mans, much of what's in the movie checks out. 
Removable brakes were a key invention as Phil Remington (Ray McKinnon) developed quick change brake rotors for pit stops. The yarn test was real. They taped pieces of yarn to the car to study the wind. The explanation may get a little lost in the film, but an excerpt from the book Go Like Hell: Ford, Ferrari and Their Battle for Speed and Glory at Le Mans published on Jalopnik explains that air ducting was costing them up to 76 horsepower, so they were able to gain speed just by circulating the wind better. 
Events of the 1966 Le Mans, like Miles' door getting stuck after dodging a starting line collision, really happened. Miles really did win the Sebring-Daytona-Le Mans triple crown in 1966. But now for some new information the film did not present.
'Ford v Ferrari' does not address Carroll Shelby's reason for leaving racing
Carroll Shelby used to be a driver himself. Ford v Ferrari does get the dates right, that Shelby was available to develop Ford's race car in the mid-60s, but it doesn't start early enough to show why Shelby was no longer driving. Shelby left racing due to health problems so he transitioned into building cars.
Ken Miles and Caroll Shelby never fought
Ford v Ferrari milks a lot of drama out of Ken Miles' volatile personality. Christian Bale can certainly play the abrasive personality that makes Miles fierce on the track but difficult in the pit. While Miles did have a reputation, Shelby had said they always got along well. That means their fisticuffs involving a bag of groceries was probably dramatic license.
"All those years before Shelby American, we knew him as kind of a hothead, but it never showed up during the years he was with me," Shelby said in his biography, cited by Lemans.org. "It seemed like he created a hell of a lot of controversy before he came to work for me at Shelby American but I always got along with Ken just fine."
Leo Beebe would contest the ending of 'Ford v Ferrari'
Even though Ken Miles was in the lead, Leo Beebe insisted on having all three Ford cars cross the finish line together. In the movie, Miles reluctantly agrees to slow down to let the other two catch up. In real life it's a legend that Miles did in fact slow down, but the movie printed the legend. 
Beebe himself told historian David Lewis in an interview quoted by Hemmings that he was concerned the Ford drivers would crash into each other if they were all gunning for first place.
"I had some real difficulties over that," Beebe said. "He was a daredevil and I pulled him in and literally engineered the end of that race – one, two, three. I called Ken Miles in and held him back because I was afraid the drivers would knock one another off. All you need is one good accident and you lose all your investment."
Ken Miles' last ride was a little more complicated
Ken Miles died testing a J-car. That is depicted in the movie, however the circumstances are slightly changed. The vehicle did burst into flames, but reports say Miles died from being thrown out of the car. In the movie, he burns to death because he could not get out of the car.
The reason this is dramatically significant is that earlier in the film, Miles has an accident testing the GT40 and catches on fire. He escapes the car in time to be extinguished, though it worries his son. Remington assures him as long as the driver gets out of the car they can be saved, and then one time he couldn't make it out of the car. The film does accurately depict the lasting effect losing Miles had on Shelby.